Yesterday Ava had her first swim lessons and they went surprisingly well. I had not intended to put her in lessons at all after the last few years of refusal to even get in the water without some major coaxing and then some major crying and fear. But, I saw an ad in the newspaper that the city would be having lessons and with it being so close I decided to see if Ava wanted to do it. She did want to and so we signed up.
All weekend long we talked about lessons and she talked about her worry of "draining." She knew she would have a "guard" who would not let anything happen to her. She told me when we got there that she was just going to look at the water, but seeing the other kids, she wanted in.
After about 5 minutes the teacher asked them to go under and Ava refused. She said, "I will do everything, but not go under." However, within 15 minutes she was going under like a pro. She loved it.
At the end of the 50 minute session she wanted to know why I didn't pay for longer. :) I am glad she is taking to the water and even happier that she is learning to be safe.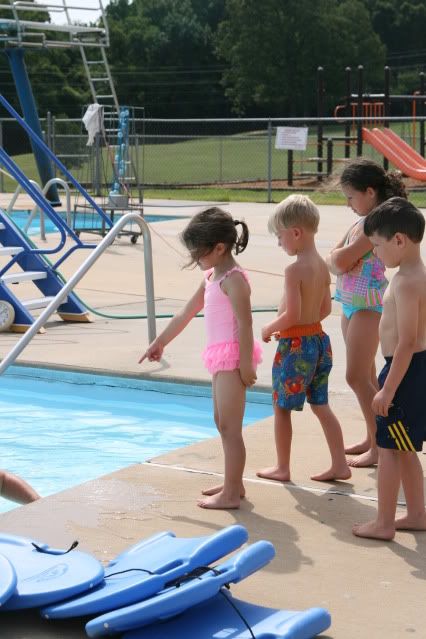 Having to be the little brother and watch is tough, but don't let him fool you. I tried to get him in the baby pool during Ava's time in the big pool, but it was "Cold."