Today we entered the realm of child pageants. Dummy me thought that surely a local pageant won't be too stressful. Boy, was I wrong. Ava was entered in the 0-23 month age division of the Ms. Depot Days pageant. When we got there, there weren't too many kids, but after being there a little while, they all started rolling in. In Ava's category, there were 11 contestants. Some moms like me were just playing it cool and some moms were going extreme over this little local pageant. You would have thought it was Ms. America, especially the older kids.
Ava did great waiting backstage until it was time to line up. The room we were in had gotten unbearably hot and she was tired of waiting. At this point, we experienced some Ava hysterics. She was having a fit. Nothing made her happy, not a paci, not juice, not her Backyardigans doll, and not Stacy's cell phone which Ava had taken over. She was beating her head on the wall, the bleachers, and screaming so loud that on tape that is all you can hear while the other contestants are walking out. But the pageant lady said they don't count off for babies that are crying. I know those other moms wanted to choke me, but what could I do?
Anyway, after our turn on stage, I was ready to go. I was so frustrated and sweating so much. I took my number off and was packing my bags because there was little to no chance of a win. Imagine my surprise when our number was called. Turns out that Ava was names Prettiest Eyes (don't know how they could see them through all that crying!). Let's just say that before we left the trophy was thrown multiple times and has sustained a few chips. And fat pageant mommy of the year was backstage complaining because "her daughter got nothing and that baby who was crying got something and she better get to see the judges scores." So much drama. Anyway we have had our fill of pageants for now. Ava is just at the age where she wants to walk where she wants and play with what she wants and that just doesn't work for the pageant circuit. I am just so happy that Ava got a trophy and it wasn't a total loss!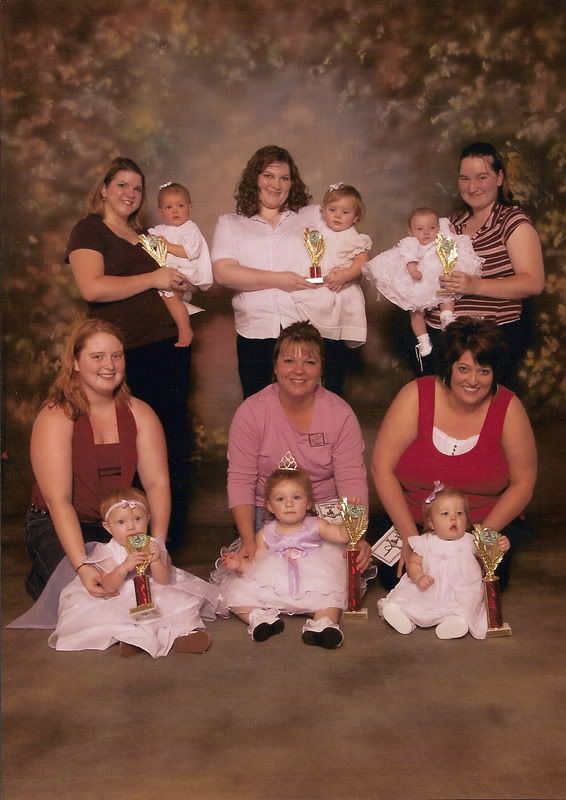 Front Row : 2nd Place, Winner, 1st Place - Back Row: Prettiest Eyes, 3rd Place, Prettiest Smile