I am about halfway through with uploading all of our vacation photos onto my home computer. We have had a pretty rough weekend with all the sickness and ickiness that goes along with that. We have done lots of sleeping, coughing, catching up with TV we missed, and being moody. I am so ready for all this sickness to be over. I told Bradley last night that it feels like we will never all be well again. Ava's fever is better after being really high yesterday morning. so I am hoping she is on the road to recovery. I start back to school in the morning and have a pretty busy week ahead. Just keep us in your thoughts and prayers.
Those of you who read the little Twitter updates at the top of the page were able to keep up with us while we were on our trip and you know that after we left Disney World we headed to the beach. We stayed at a little place outside of Tampa called Anna Maria Island. Regretfully we only got one day at the beach because that was when Ava got sick and we decided to head back. Ava was so excited to go to the beach and it was beautiful. Our resort had a private beach so it was not very crowded and was very clean and nice. At first Ava was just interested in the sand, but after Bradley got her used to the waves she loved putting her feet in. The only negative was that even though it was really hot outside, the water was still pretty cool. Lots of people were walking in just a little but not really swimming. It was gorgeous though and I am so glad that Ava got to experience the ocean. (or as Bradley says, "It's not the ocean, it's just the gulf!")
Here are some sunshiney pictures to brighten your day.
This first picture is not mine, but I wanted my mom to see the killer bridge we went over called the Sunshine Skyway. Scary!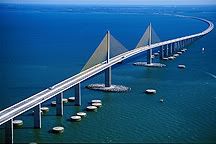 Here's one of my pictures of it.