1. Everything Ava refers to in the past is classified as "this morning." As in, "I went to Disney World this morning." "I watched a parade this morning." "I hunt eggs here this morning." And with her little southern drawl, it is too cute!

2. Her imagination is really coming out and she is doing a lot more pretend than she had previously been doing. The other night she had to undress all her dolls to give them baths using baby wipes.
3. Ava had a couple of inches cut off of her hair a couple of weeks ago in an attempt to help even it out and tame it a little.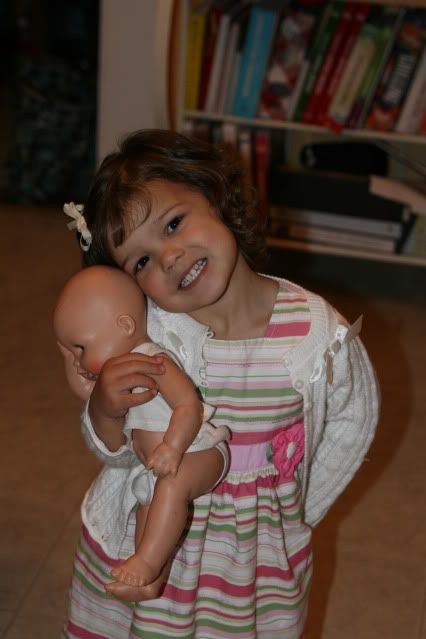 4. Some of her favorite cartoons to watch are Smurfs, Snorks, and Flinstones. We have the Boomerang channel which is a part of Cartoon Network and it shows older cartoons a lot.

5. I haven't mentioned this on her yet, but my Nanny (Mom's mom) has started the first of three rounds of chemotherapy for stage 2 lymphoma. She has moved in with my aunt and uncle while this is going on. To help ease things and since there really isn't much we can do at this point to help, we are keeping one of her dogs until she is able to come back home. Maggie came home with us on Saturday and has been hanging out with us here in TN. Ava is in heaven, but I am not so sure about Maggie. She loves to be in Maggie's face and giving Maggie tons of hugs. Poor thing won't know what to do when Maggie gets to go home, but for now, Ava says, "I love my doggie!"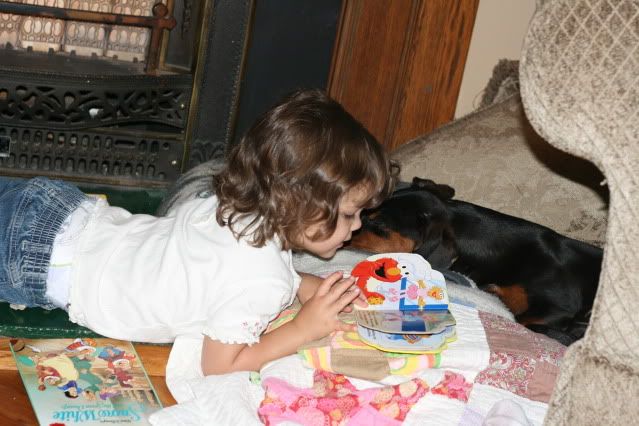 6. For my mother's day I got a nice gift card to iTunes so I can charge my iPod with some new tunes! Thanks, Bradley and Ava! I also had a nice dinner out at Applebee's.
7. After I got back from Murfreesboro a few weeks ago, Ava decided to help unpack my bags. I heard her head into the kitchen and say she was looking for a babysitter for Bacon (her toy pig). She took all the cosmetics out of my overnight bag and lined them up in a circle around Bacon.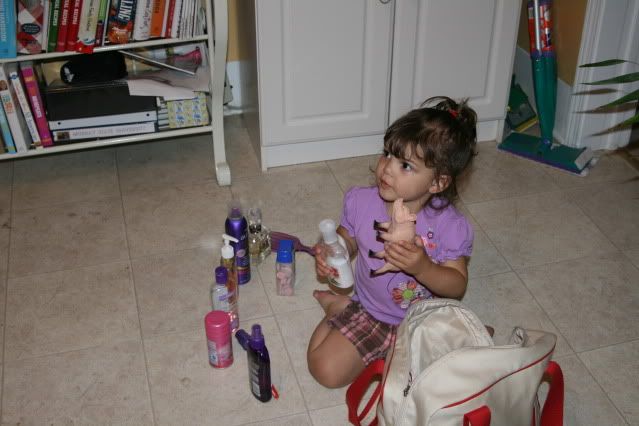 8. Ava has been very into wanting to dress herself lately. Here she is one morning last week when her outfit consisted of pajamas, cowboy boots, and a festive belt.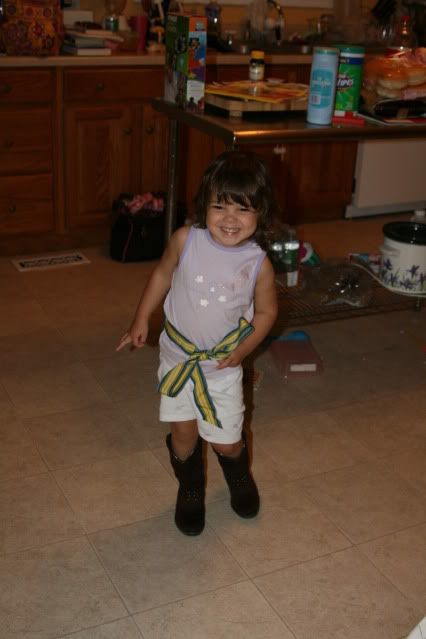 9. My poor house has been a disaster ever since we came back from Florida. Between the sicknesses we had and the morning sickness I have had, our house is an absolute wreck.

10. Next week I will officially start the second trimester of pregnancy. I am keeping my fingers crossed that the rest of this morning sickness and some of this tiredness will disappear! We heard the baby's heartbeat last Thursday and the doc was surprised we were able to hear it this early, but that is a great sign!
Bonus Item -
11. Happy Birthday to Aunt Bethany! Here are a couple of pictures from last year's birthday, complete with Ava stealing cake icing! Look how short her hair was!