Last weekend we headed up to KY to spend the day with my mom and grandmothers. We wanted to visit close to Mother's Day and also celebrate my mom's birthday which was in late April. Once we had pegged down the date we were going to visit, I called and made reservations at Patti's so we could have her birthday dinner there. I must say that since the day I made the reservation I had been looking forward to it and ready for some serious grub!
We got into Princeton a little bit after lunch and hung out for a while at my parents house. Once my mom was ready we went and had a little snack break at Sonic and Ava enjoyed an ice cream cone (and so did we). I also discovered a new weakness, the Mango Limeade. Delicious! I could drink one everyday! After Sonic we visited with my Mammaw and Nanny and spent some time visiting before our dinner reservation. Ava enjoyed playing with Mammaw's dog, Poncho, and we had fun brushing out his winter coat. At Nanny's Ava played with Maggie and Spanky and was excited about bringing Maggie back to TN.
Finally what I had been waiting for: a delicious meal at Patti's. The only downside was that Ava had not napped and was getting testy and did not want to sit still while we ate our food. But I got her to spend some time drawing pictures which occupied her for a bit. After desert, complete with singing Happy Birthday to my mom, we walked around the settlement for a bit, saw a little of a wedding, played with Ava on the slide, and did some window shopping. The setting there is just so beautiful that you could spend a while just looking at everything. Unfortunately with a 2 year old, you don't want to be around breakables, and she doesn't have much attention span! But I thought it was a delicious meal and thoroughly enjoyed myself.


Then we headed back to Princeton, picked up Maggie, and headed home. It was a nice visit, quick as usual, but well spent with my family and our new houseguest.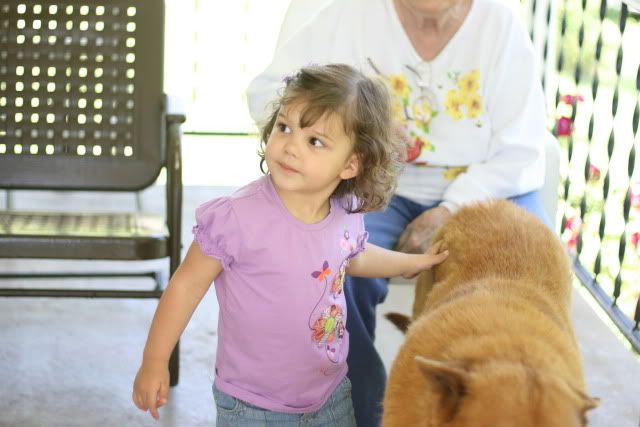 Ava and Mammaw