In Ava's world, she has certain ideas of outfits that embody being a princess. Bradley and I laugh at the outrageous outfits she puts together because they are usually a riot. When she has gone upstairs to get dressed and is taking forever, Bradley always says, "There is no telling what craziness she will be wearing." I find it very humorous, but sometimes he doesn't.
The other week Ava was getting "dressed" and came down in what she said was the "Fanciest Princess Outfit." So here is the anatomy of a princess outfit, broken down piece by piece for your enjoyment.
You start by throwing a crown up on top of some crazy bedhead hair.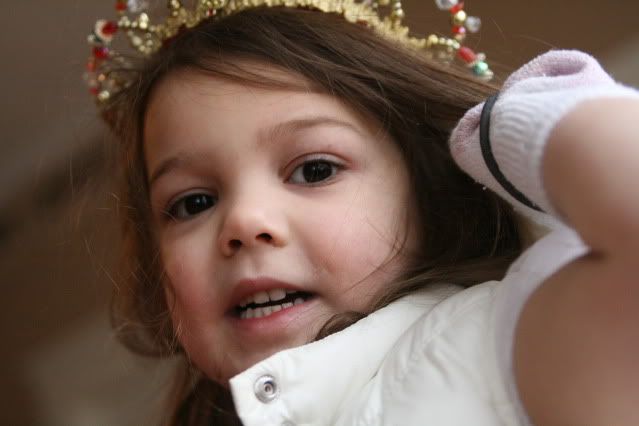 Then the ensemble includes a Cinderella nightgown (compliments of Aunt Bethany), a nice puffy vest, a crazy scarecrow sidekick (who we call Michael), and a beautiful butterfly wand (compliments of Grammy and Gramps).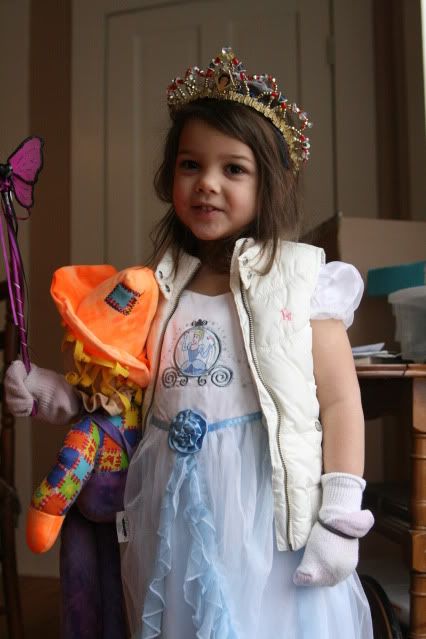 Then you must have gloves. However, when you can't find your real gloves, socks will apparently do. But make sure you wear a rubber band bracelet to help hold them on and add some real pizazz.