I guess since it is now the second week of November that I should post the rest of the Halloween pictures. We had a pretty busy time leading up to Halloween, but all in all had a good Halloween.
The kids' costumes proved the most stressful. Ava wanted to be Rapunzel, but I convinced her to be Cinderella since Aunt Bethany had gotten her a beautiful Cinderella dress for Christmas last year. But alas, it was still too big and she was having none of it.

Harrison was scheduled to be a dragon and I ordered him an adorable dragon costume that was supposed to fit 2-4 year olds. Lets just say that unless they are elfin people, this costume ain't working!
So at the last minute we settled on Fancy Nancy and a "ductor."
Other notable events included Ava tie-dying shirts for her school party and making cupcakes for her party. We also carved several pumpkins this year and had a good time working as a family.
As far as actual trick-or-treating goes, we didn't even make it all the way down the street. Half of it and Ava was done. I think Harrisons slowness just wore her out (I know it did me!). After we had walked up the street and returned home we headed out to Nana Cheryl's and Harrison and I had a conversation that went something like this.
H: Monster gonna get me.
Mommy: No monster is going to get you. Monsters aren't real.

H: Are to.

Mommy: They are not.

H: Is to.
Love that little guy. :)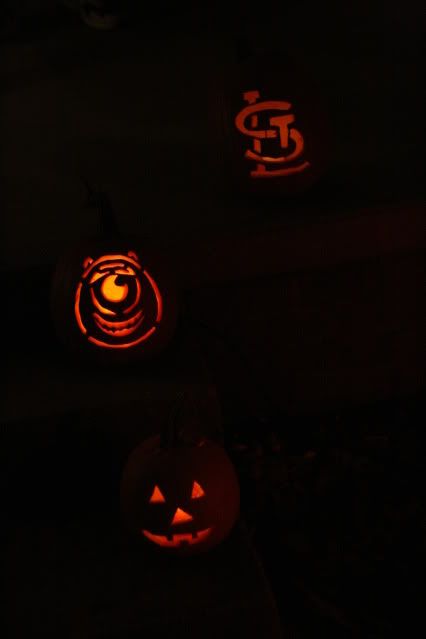 A view of all our pumpkins - Witchy Hello Kitty, Lightning McQueen, Thomas the Train, St. Louis Cardinals logo, Mike Wazowski (from Monsters, Inc), and the face that I named Carl.