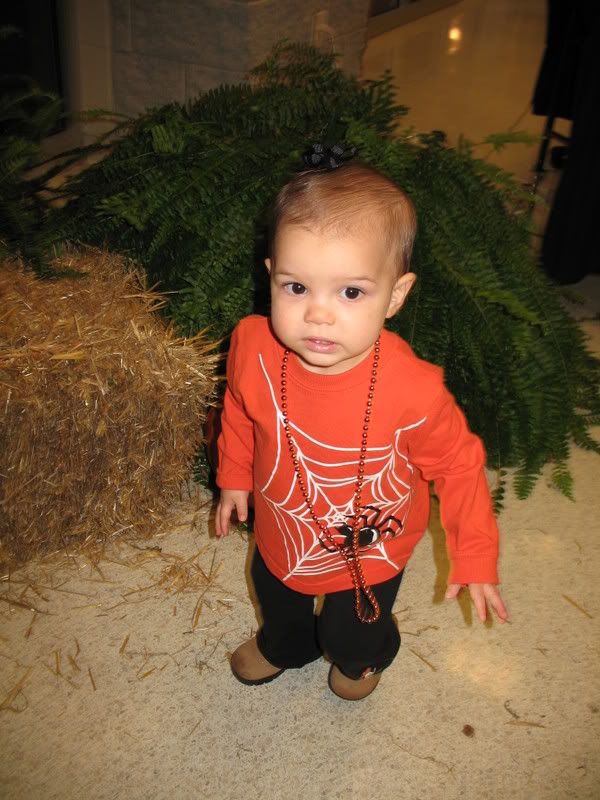 I have lots of catching up to do, so be looking for posts over the next couple of days to catch up on the happenings at the Rogers' House.
Last Thursday was DCHS's Annual Fall Fest. We were excited to take Ava to her first Fall Festival. Last year she was just too little so we skipped. This year, Ava was still too little to really enjoy it, but we had a pretty good time. Each club sponsors a booth and charges a different number of tickets to play or purchase items. Tickets are 25 cents each and we bought Ava $5 worth. It is very overwhelming when you go in because it is so crowded. Tons of the high schoolers show up and it tends to really put a damper on things for the kids. They just come to hang out and run wild for a couple of hours and makes it hard for the little ones to enjoy things. But anyway, that's just my opinion.
Ava started off at the booth where you paint a pumpkin. I wrote her name on it and she put a couple of stickers on it (which she later tried to eat). We did the duck pond next and Ava kept picking up ducks, sticking them in her mouth, and putting them back. Gross. She ended up winning a little orange bead necklace (which she later cried about when we took it off). She did the bean bag toss with Ms. Ann (one of the special ed assistants) and she really enjoyed that. She had a good time people watching and seeing all the other kids. She didn't cry at any of the costumes, though I am not sure if she even noticed. After that, I put a bid in at the silent auction, Ava and I got our picture made, and then we headed home.
So, it was pretty uneventful. Next year, I hope we can make it to one of the elementary school's Fall Fests because I think that would be more of our speed.
I am super busy downloading pictures from this weekend because I took almost 200. Check back tomorrow for pictures from our 2nd Annual Hall-o-Weenie Roast.
Here are some pics from Saturday morning. The ladybug costume is one my mom picked up on sale at Wal-Mart years ago. Ladybugs were my sorority's mascot and she picked this up for me. It has hung in a closet for about 8 years so I decided to put it on Ava. It is a 0 - 12 month size and it was so small on Ava. She laughed when she saw the head and enjoyed it until she tried to bend over and the crotch was so tight she would fall on her head. That is when the fun wore off and we had to really work to get this thing off of her!