Today was my first full day of Christmas break and I am worn out! Ava and I stayed busy and she kept me on my toes today. Here is a rundown of events:


Ava woke up around 8:15 and after breakfast, I made bon-bons while Ava watched The Backyardigans.



We both took a small nap around 11:30 and at around 1:00 we ate lunch.




At 3:00 I made corn flake candy while Ava watched Veggie Tales Christmas and jumped in her jumper.




At 4:30, I was starting to make Chocolate Chip Oatmeal Pecan Cookies when Ava came in carrying a small toy. I realized it was not her toy, but a Christmas ornament. As you can see from the picture, Ralphie's ears are missing. I was frantic! I looked everywhere for the ears and just knew she had eaten them. I called Bradley and he came home. He found the ears under a chair. Thank God!






At 7:30 Ava and I made reindeer food.




At 8:00 we made Christmas pretzels and Ava sprinkled a few.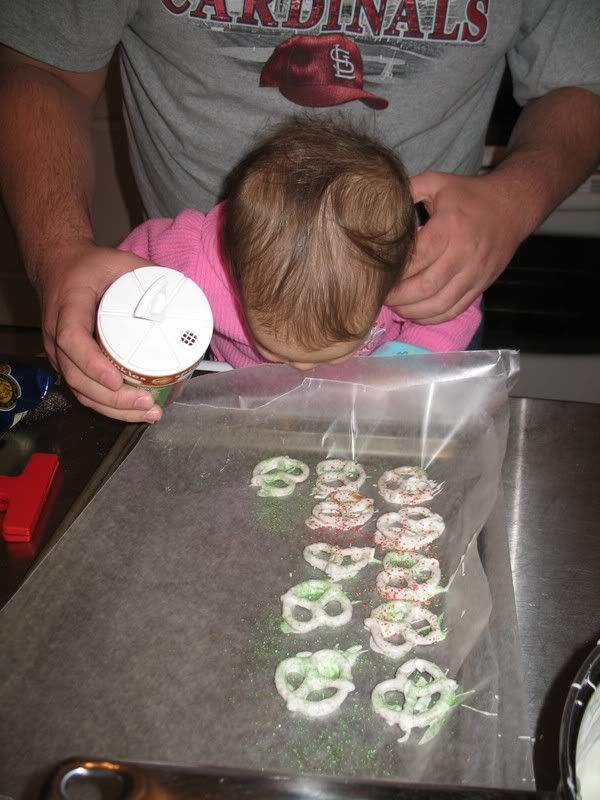 Man, I am more tired now than I am when school is in session! But it was a good day and I enjoyed spending time with Ava and preparing for the holidays!