I will be posting several times over the next few days with pictures from the last week and past weekend. I like to keep things in order so I seem to always seem to stay behind. When I loaded my
memory
stick today, I had taken 217 photos since last Monday! Quite a bit to sort through. So just keep checking back with us often cause I will be posting a bit as I have time.
We did go to KY on Saturday for a visit and with Father's Day on Sunday I have a lot to post. I also did an
impromptu
little photo shoot with Ava and let's just say she is definitely in a "not smile for the camera or look remotely happy phase." I will try to get those on here tomorrow.
We hope every Father had a great Father's Day. I want to say I love you to my Dad, Kenneth, and my Father-in-Law, Joe. As well as my grandfather, Poppy, aka Bob W. Happy Father's Day to my brother, Nick.
Also, Happy 30
th
Anniversary to my parents, Kenneth and April. We love you!
So, here are some of Ava from last week.
She has become obsessed with photo albums, my scrapbook, and looking at pictures framed around the house. Here Nana and Pop are showing her the Ava Scrapbook.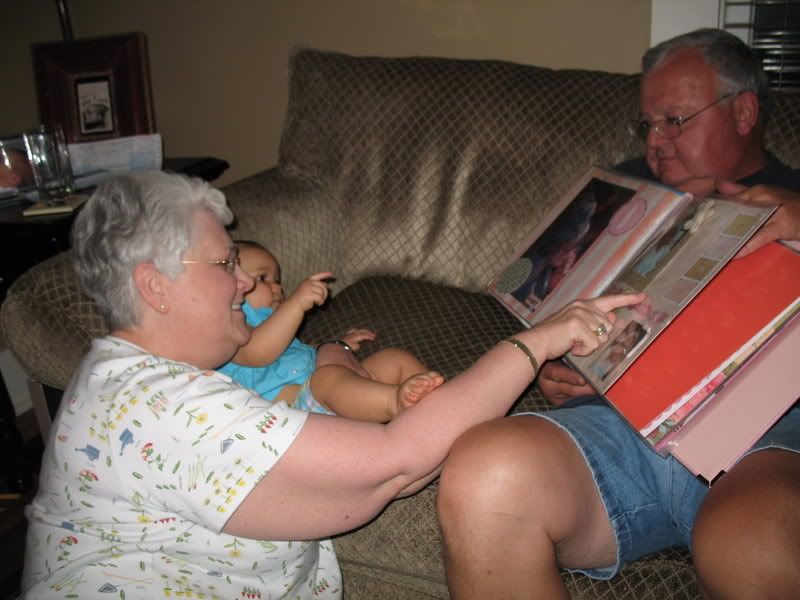 On Friday night Bradley and I had a date night and went out to dinner. We ended up at
Wal
-Mart where
apparently
everyone else from the Chinese restaurant had decided to go. We couldn't resist this cute Dora chair for Ava. You can tell she loves it because she is showing her love by head-butting Dora and then licking her.