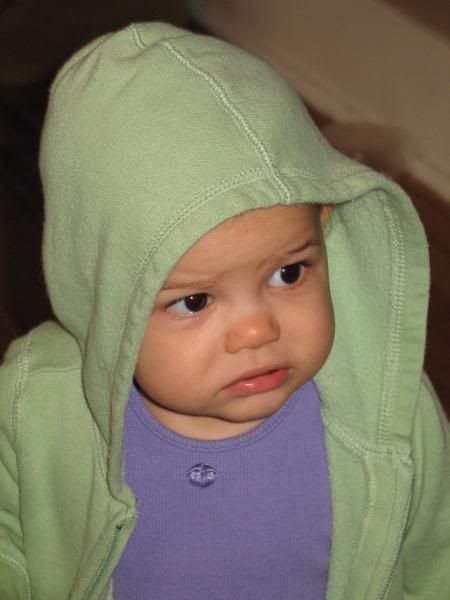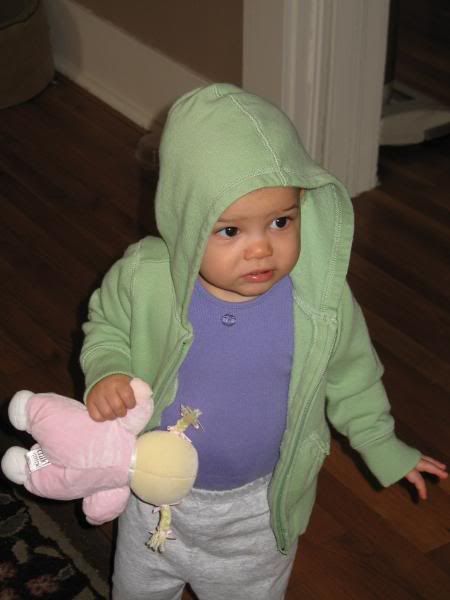 The above pictures are from right after our walk in the palk. It was a little chilly and windy so Ava wore her new jacket.
Another very nice day here at the Rogers' house. Ava woke up at about 7:30 (do we see a pattern of it getting earlier each day). She also woke up at 6:00, but I refused to get her out of bed and she went back to sleep. We piddled around the house doing a little light picking up and then I fixed up Ava's "play corner" in our parlor. We have just been at a loss for what to do in the parlor and it is just wasted space right now. So I decided I wanted to turn the room into a sort of playroom for Ava. Since all our bedrooms are upstairs, I figured this would be a perfect place for her to play, cause let's face it. It will be many moons before Ava can go upstairs and play by herself. It's not like she doesn't have half her toys down her already and this way it will be a little more organized. I don't think Daddy is too keen on the idea, but it's better that the space is being used. So anyway, a few months ago, Stacy and I went yard sale-ing (no such word really) and we found this little kitchenette for a steal. She convinced me to buy it and this morning I bleached that baby and it looks like brand new! So adorable. Bradley brought down the toy box that Aunt Bethany got Ava and I brought down a huge basket for all her books and then over the course of the day, we got it arranged. I had even bought some Disney Princess stickers to hang on the wall (which Bradley thinks looks trashy, but I think makes it more of a little play atmosphere). I haven't hung them all up because I was waiting to see if Bradley was going to hang me when he saw them. But hey, it was either the princesses or Dora. And while Ava likes and knows Dora more than the princesses, I am sorry but as mommy, I just overrule and I voted for princesses. Hey everybody loves those gorgeous gals and their killer dresses!
Anyway, when I brought her into the room, I wish I had a camera. I swear she did a little gasp and ran right over and started kissing the princesses. It was too cute!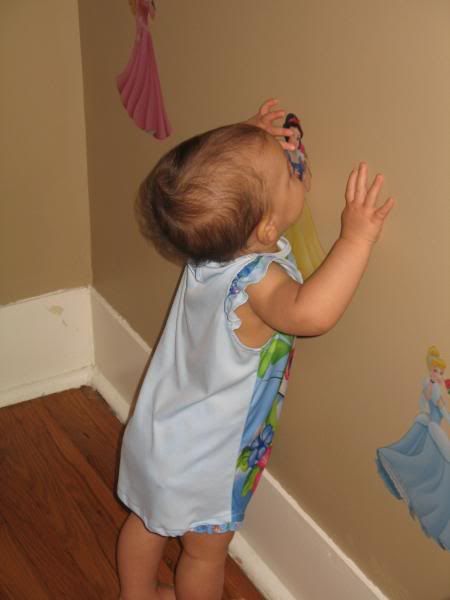 Other than that, we walked at the park again, had a nice lunch together, and then took a nap. If you were one of the people calling, sorry but my baby was asleep on my chest and we were just enjoying resting too much to answer the phone! Call back tomorrow please! ;)
Tonight we watched the new show, Pushing Daisies. Totally cute and I swear it is narrated by the guy who does the Walgreen's "perfect" commercials. Definitely not what I expected, but cute to say the least. Right now Ava is watching the playoffs with Daddy (gotta love World Series time) and about to be put in bed. I am looking forward to cruising Kori's pics again, so good I can't stand it and I need some input people! Anyway, here's my daily pics. Gotta love my girl!
Stay tuned until tomorrow when I post pics of our Halloween decorations. Spooky!