Day 1 at Magic Kingdom –
We got to check in early to our hotel and went ahead and carried our stuff to our room. Our room this time is located in Oak Manor in Port Orleans Riverside. It is made to look like southern plantation houses; beautiful gardens and a river that runs by it.
After unloading we went straight to the Magic Kingdom. We rode the monorail to the Magic Kingdom and I was hoping for some emotion when Ava saw the castle, but she had a hard time seeing it from the monorail and when we got there she acted nonchalant about it. Then after seeing it for 3 or 4 minutes she finally said, "That's Cinderella's Castle!" Talk about delayed reaction. I think she was just very overwhelmed with all of the people and things to see. She immediately asked for two things: to see the castle and to see Mickey. So we started heading toward the castle where we caught a show which was enjoyable, but Ava kept saying, "I want to meet them!" So we started walking to meet Mickey.
Now, it was crowded and we were trying to get through the huge masses of people to get to Mickey. Some people had stopped us and gave is Fast passes to rise Peter Pan so we stopped and rode that. Ava didn't really get it mostly because she couldn't see much and it was a dark ride. She just sat through it, but wasn't too enthused.
Then on to Mickey. We went through his house and into his backyard to wait to meet him. When we got there it was an hour wait to see Mickey! But we waited and Ava and I had many fights in that hour. She wanted to see Mickey, but she didn't want to wait in line. Finally it was our turn. Just moments before meeting Mickey and Minnie Ava threw a fit to write in her autograph book. But finally it was her turn and she just walked up to Mickey and hugged him. It was the sweetest little meeting. She was so overwhelmed she just didn't know what to do. She hugged and kissed Mickey and Minnie so many times. It was the cutest thing!
On our way out from meeting Mickey we got to meet the Mad Hatter and Bradley and he bantered back and forth about Ava and her unbirthday. Ava didn't want to talk to him and finally at the end of the conversation the Mad Hatter said, "Well she can speak!"
We went to get Fast passes for The Many Adventures of Winnie the Pooh and got a surprise Fast Pass for Philharmagic the 3-D Show. We headed right for that and Ava actually kept her 3D "opera glasses" on for most of the show, but she covered her ears through a lot of the loudness.
Then because lines were so long for everything we went to meet Ariel (The Little Mermaid) at her Grotto. The line was super hot and super long, but eventually we made it. Ava went running up to her and fell down right on the rock in front of her. She got back up and got up there with Ariel. She was more mesmerized by her tail than anything else and would not look at the camera because she was too busy staring at the fin.
By this time it was almost time for our reservation for dinner at Cinderella's Royal Table where you actually eat in the castle. Up to this point in the day Ava had been horribly fussy and this dinner just capped it off. We met Cinderella on the way in and then were escorted upstairs to dinner. We had a view of part of Fantasyland from our window. Ava refused to eat anything except the ice cream and just was so fussy. I think at this point we were wondering if we had made the right decision to come to Disney. At the end of dinner we were surprised by a little show provided by the Fairy Godmother and Cinderella's mice. They gave us a magic wand which Ava carried throughout the rest of the night even on some rides.
So from the window we were at we could see Cinderella's Golden Carousel and Ava kept saying I want to ride it. So I took her on it and she loved it. When we were done she said, "Let's do that again!" From that point on marked a turning point with Ava at the Magic Kingdom. While she still didn't like waiting she did wait and had an enjoyable time. We ended up riding every ride in Fantasyland except the teacups. Ava liked them all! Since the park was finally slowing down we got on most rides fairly quickly. We even rode The Haunted Mansion. When we were done Ava said, "That was scary!" I said, "Do you want to do that one again?" and she said, "No." Funny!
Then we scouted a location for the fireworks, watched for a bit, then headed back to Fantasyland in hopes of catching Dumbo lines at a shorter bit. We were able to finally ride Dumbo after a 20 minute wait and Ava loved it!
For the last bit of the night we caught the 10:00 parade, Spectromagic. Ava LOVED it! She had such a blast watching it and waving to the characters. But after the parade she finally passed out and we headed back to our car and then home to our resort.
Ava waiting at check-in.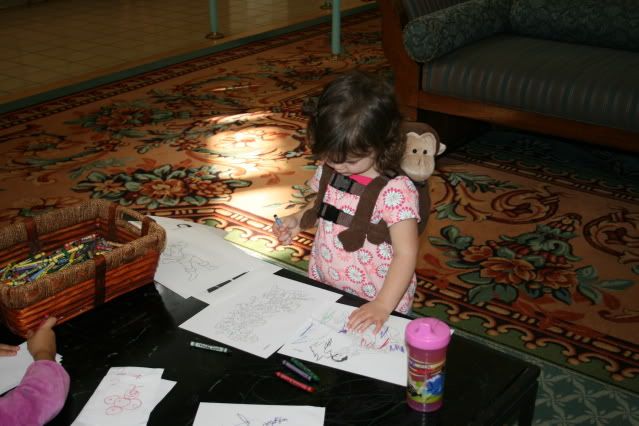 Riding the monorail.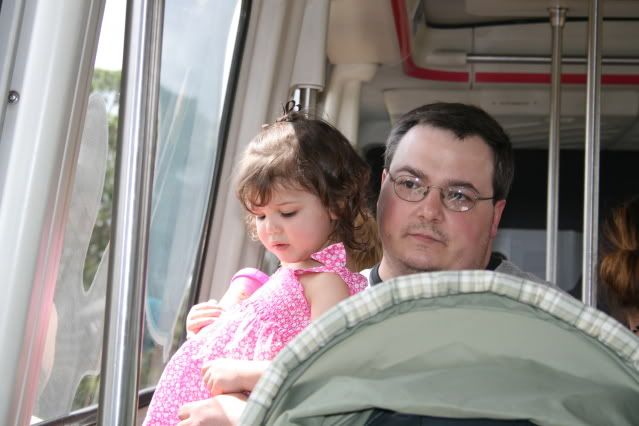 At the entrance to the Magic Kingdom.